The FLTC publishes high-quality topo maps of the FLT system. Maps are laser printed in color on Rite in the Rain® paper at 8½ × 11 size. The scale of most maps is 1 inch = 1 mile while the scale of several spur trail maps is 1 inch = 1/3 mile or less. The back of each map contains a detailed description of the trail including "step-by-step" notes on road crossings, trail junctions, lean-tos and bivouac sites, and points of interest.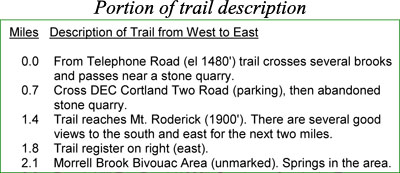 Maps are revised by the FLTC Mapping and Trail Inventory Committee to reflect re-routes and major changes in trail conditions. Maps purchased on this website are always of the most current version of each map. You can determine whether your copy of a map is obsolete by comparing the revision date on the map with the revision date shown on the Trail Condition Notices page.
You may purchase maps in sets or you can select individual maps from an interactive map of the FLT system. Because of savings in shipping costs, we offer volume discounts when you purchase more than 3 or more than 10 individual maps.