That's A Wrap!
Thank you to everyone who participated in the FLT60 2022 Challenge.  Stay tuned, we will have a new challenge coming for 2023!
If you still need to submit your mileage you may use the FLT60 2022 Mileage Submission Form.
FLT60 2022 Challenge
The Finger Lakes Trail Conference's annual challenge is back – with a twist! In celebration of our 60th Anniversary Year, we're upping the ante and challenging you to complete SIXTY miles on the Finger Lakes Trail this year for the FLT60!
The challenge is FREE! All miles completed in calendar year 2022 will count – this includes branch trails, miles from your favorite hikes that you do over and over again, and all miles for out-and-backs.
As in years past, we have a BONUS challenge for those of you who spend more time on the trail. Complete 60 miles per month for six months or more and you'll earn a special FLTC 60th Anniversary pint glass! Anyone who completes 60 miles or 60K (37 miles) in a one day will also receive a pint glass (this must be a self-supported effort). Please send a note to [email protected] with verification of your mileage once you've completed the bonus challenge.
Share your stories and photos tagging @fingerlakestrail and use the hashtags #FLT60 and #fingerlakestrail and we might use them in Footnotes, FLT News, and other promotional materials.
This challenge has been met with great enthusiasm the last several years. In 2021, we had almost 400 finishers who logged over 37,000 miles! To kick things off in 2022, ALL miles from January through the end of March will count – no matter where you do them – as long as they are outdoors. So get out there and find some joy in these winter months on whatever trail, path, or route you like to walk, hike, or run, and get to the FLT as much as you can!
We look forward to your participation and can't wait to hear about your adventures!
For your convenience, we have included a mileage tracker, but mileage will be submitted online again this year. You will need your participant ID # to register your miles (you will receive this via email when you register).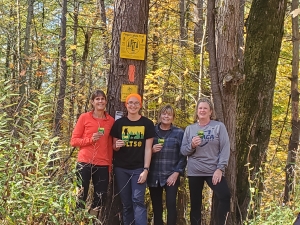 A group of 2020 FLT50 finishers show off their patches and some FLT50 gear!
Simon is one of the younger finishers of FLT50! Through snow, rain, and sunshine Simon has hiked 50 miles each year since the challenge started. Here he is taking a break with a very noble (and adorable!) friend.