The 2011 Ed Sidote Hike  Saturday, July 30, 2011.
Hike: FLT Map M23
Chenango County, Town of Pharsalia
Description
Two hike lengths will be offered, a 7 mile and a 3 mile hike.  Both hikes will lead to the new "Ed Sidote" bench for a re-enactment of the dedication ceremony for those who missed it back in November, 2010.  The longer hike will include the blue-blazed FLT side trail over to the Plymouth Shelter.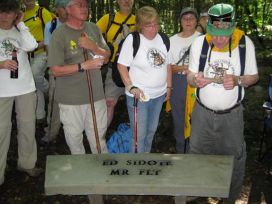 Trails were in excellent shape, and I do mean excellent, thanks to the efforts of the Bullthistle Hiking Club and their trail stewards.  As if that wasn't enough, arrangements had been been made by the Bullthistle Hiking Club to provide Chobani yogurt (donated by Agro-Farma),  root beer (donated by Norwich Beverage), and numerous other refreshment items at several 'sag wagon' stops along the way.  Was this a hike or a party ???  by Larry Blumberg
For more photos:
https://picasaweb.google.com/triplecitieshikingclub