​North Country National Scenic Trail Day Celebration
Saturday, September 26, 2015
​On the last Saturday of each September, the North Country National Scenic Trail Association holds a "Trail Day Celebration" whereby each of the member clubs sponsors one or more hikes somewhere along their section of the North Country Trail.  The NCT runs from North Dakota across the northern United States to Champlain Lake Bridge to Vermont at the Crown Point NY State Historic Site which is north of the Crown Point village and also north of Ticonderoga, NY. Plans are in place to extend the trail into Vermont.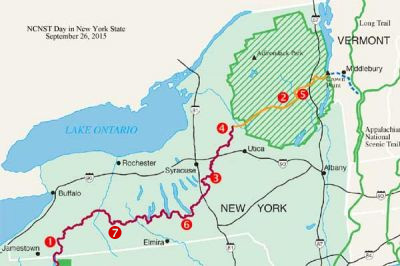 ​​Hike #1 – Sponsored by Finger Lakes Trail Conference
Hiking with a "new State in Mind" – FLTC Map M1, Allegany State Park
How often do you cross a state line on a hike?  If you answered…never…well here is your chance to do so! We'll hike through Allegany State Park in New York State with a "new State in Mind" to the NY/PA state line marked with a picturesque trail marker made for plenty of photo opportunities.  We'll then sign the trail register at the border and proceed into Pennsylvania on our way back to our cars at PA 346.  Come out and join us for a fun and scenic hike without the headaches of a passport, dodging border patrols and declaring your water bottle at the border.
FLTC Map: M1
Meeting time:  8:30 am
Meeting Place:  Map M1, Access 1, PA 346, Pennsylvania.
Directions: Make your way to Rt. 86, exit 18, west of Salamanca, NY.  Take Rt. 280 south to PA 346.  As you approach Quaker Lake which is the only body of water on your left, Rt. 280 makes a sharp turn to the right.  Make the right hand turn to conti nue on Rt. 280 and this road will change to PA 346 at the state line.  The parking lot at Map 1, Access 1 is about 2-3 miles on the left hand side.
Distance:  10.4 miles.  This hike has several short, but steep climbs of 300 feet so please bring plenty of water and good hiking boots.
Hike Leader:  Mike Schlicht, [email protected], 716-316-4388
Hike #2 – Sponsored by ADK-ON
Rock and Long Ponds, Siamese Ponds Wilderness
Adirondack Park
We will explore the NCNST Adirondack Route north of Speculator, NY. The trail passes two typical, picturesque Adirondack lakes with all the ambience one would expect of a National Scenic Trail. Try out your echo on Long Pond cliffs.
Map: ADK Central Guide pp 124-6, Delorme 37
Meeting time: 8:30 am
Meeting place: Please call leader for meeting place
Distance: 5-7 miles
Leader: Mary Coffin, 687-3589, [email protected]
Hike #3 – Sponsored by ADK-ON
FLT/NCT Onondaga Trail: Webber Rd to Holmes Rd.
We will celebrate North Country National Scenic Trail Day by hiking the eastern most end for the Onondaga Trail from Webber Road to Holmes Road and the junction with the CNY NCTA Chapter's section. There are scenic views from the hill tops and a small stream crossing.
FLTC ​Map: O2
Meeting Location and Time: 9am from Syracuse area, please contact leader
Directions to Meeting Location: Contact leader. Trail head is south of New Woodstock and Route 80 in Madison County.
Hike Leader: Mary Niemi [email protected], 315-446-6725
Distance: 5.3 miles.
Hike #4 – Sponsored by CNY NCTA Chapter
NCT Black River Towpath and BREIA Trail
CNY NCTA Chapter is sponsoring a hike right in the middle of the trail north of Rome on the BREIA Trail along the Black River Canal Towpath between Pixley Falls State Park and Booneville.
Distance: 7 miles on the level and slight downgrade.
Meeting place and time: Jack Miller, [email protected]
Hike #5 – Sponsored by ADK-SCH
Adirondack NCT: Moxham Mountain [Vanderwhacker Wild Forest]
Moxham Mountain in the Vanderwhacker Mountain Wild Forest near Minerva, NY is part of the planned route for the NCNST in the Adirondack Region of New York. To celebrate NCNS Trail Day we will hike this trail to enjoy the wonderful vistas along the ridge. At the present time this is not a through hike so we will enjoy our lunches prior to returning to our cars. You will need to bring lunch and snacks plus appropriate clothing including rain gear in your pack. We will climb approximately 1000 ft. The hike is 5.4 miles round trip.
Meeting time: Further details on the meeting place and time will be posted soon.
Meeting place:
Leader: Contact [email protected] or 518-371-1293
Hike #6 – 
Sponsored by Cayuga Trails Club
Three Preserve Hike – Enfield, NY
We will hike on three nature preserves in the Town of Enfield, Tompkins County. The three preserves carry parts of the Finger Lakes Trail/North Country National Scenic Trail and are protected by the Finger Lakes Trail Conference and the Finger Lakes Land Trust.
FLTC Map: M16
Meeting time: 10:00am
Meeting place: Bock-Harvey Forest Preserve, 150 Rockwell Road trailhead, Enfield, NY (click for map).
Distance: This event will be offered with options for 3 or 6 miles in length.
Leader:
For more information, see the Cayuga Trails Club website.
Hike #7 – Sponsored by Foothills Trail Club
FLT Map M4, Boyce Hill State Forest
This will be an 'out-and-back' hike along the North Country Trail through Boyce Hill State Forest.
Meeting time: 10:00 am
Meeting Place: FLT Map M4, intersection of NY Rte 242 and Phillips Rd
Directions to Meeting Place: In Franklinville (NY 16) take County Rte 17 (Backerstand Rd) and go 5 miles to NY 242. Turn left on NY 242 for 1 mile to the intersection of NY 242 and Phillips Rd.
The meeting place can also be reached from north of Franklinville by taking NY 16 to NY 242. Turn on to NY 242 towards Ellicottville and go for approx 6 1/2 miles to reach the Phillips Rd intersection.
Hike Distance: About 6 miles total.
Hike Leaders: Donna Flood, [email protected], and Lois Justice