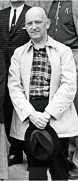 Wally Wood was the founding president of the Finger Lakes Trail Conference. He was a long distance hiker living in Rochester when he organized existing hiking clubs in 1962 at Keuka College forming the Finger Lakes Trail organization.  The Annual Wally Wood Hike honors his memory. His monument pictured to the right is located on map M7 South of Portageville. It was installed by landowner Hessie and the GVHC June 4, 2005.
Celebrate National Trails Day Saturday June 6
th
with a hike honoring FLTC Founding President Wally Wood
Hike Descriptions:
Each year we host a hike in honor of Wally Wood, founding president of the Finger Lakes Trail Conference. The hike will be held on June 6, National Trails Day, at Allegany State Park in Cattaraugus County. Two options are being offered–an eight mile hike and a six mile hike. Both are loops so Car Spotting is not required and neither hike will include a SAG Wagon (Supply and Gear). Please pack food and water to sustain you on the hike.
In light of COVID-19, the hike has been modified to promote safe physical distancing. Modifications include:
1. All attendees are required to sign-up for this hike by contacting Marty Ruszaj: [email protected] or 716-250-8340. TOTAL number of participants will be limited;
2. Hikes will be conducted in small groups of six or less;
3. Each group will have a 10 minute staggered start time;
4. Each hiker is responsible for maintaining 6 feet of distance between themself and other hikers;
5. We recommend limited carpooling to the hike location; please carpool only with members of your household;
6. Bring a mask, bandana or other face covering in the event that you are unable to maintain 6 feet of distance.
The hikes will be held on Map M2/CT2 within Allegany State Park in Cattaraugus County. Hikes will begin at Access 1 just outside the Park and hike in the Red House section. Hikes include scenic Red House Lake and the Park's historic Administration Building. The Park will be celebrating is 99th Anniversary this year. Join us for the fresh air and (hopefully) sunshine.
Two options will be available:
The FULL HIKE will begin at 9:00 a.m. at ASP 2 and Bay State Road (42.1078,-78.7752). This loop will be ~8 miles. We will hike the FLT into the Park with a 600′ ascent and proceed on a ridge trail past the Beck Hollow Lean-To until we reach the blue blazed spur which will descend to the Administrative Building and Red Lake. A short way back on a bike trail and ASP2 will bring us back to our cars. Hike leader: Marty Ruszaj: [email protected].
The HALF HIKE will meet at 10:00 a.m. and will meet at ASP 2 and Bay State Road (42.1078,-78.7752) and start a 6 mile hike staying on the bike path which travels the perimeter of Red House Lake. Terrain will be relatively flat. Hike leader TBD.
Please contact Marty Ruszaj with questions and to register for either hike: [email protected]; 716-250-8340.