Wally Wood Spring Hike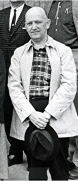 Wally Wood 1967
Wally Wood was the founding president of the Finger Lakes Trail Conference. He was a long distance hiker living in Rochester when he organized existing hiking clubs in 1962 at Keuka College forming the Finger Lakes Trail organization. The Annual Wally Wood Hike honors his memory. His monument pictured to the left is located on M7 South of Portageville. It was installed by landowner Hessie and the GVHC June 4, 2005.
The 2010 Wally Wood Hike is April 24, 9 am
Hike location: Finger Lakes Trail, Cortland County, Map M20, Hoxie Gorge
Hike
Hikers will be given two choices, a 6.3 mile hike from McGraw Marathon Rd west through Hoxie Gorge to where the FLT meets US 11, or 11.3 miles by continuing on with an additional 5 miles of road walking along US 11 and West River Road on each side of the village of Blodgett Mills. Join Larry and Susan as they continue west on their very methodical FLT End-to-End quest (all of their hikes have been in order, starting back in 2007 at the eastern terminus of the FLT).
Meet
9 AM at intersection of W River Rd and where the FLT leaves W River Rd, 2.8 miles south of the Blodgett Mills bridge which crosses the Tioughnioga River.
Directions
Take either I-81 Exit 9 (coming from Binghamton) or Exit 10 (coming from Syracuse) and follow US 11 to Blodgett Mills. Cross the river and turn south on W River Rd for 2.8 miles.
Carpooling
Meet at Wegmans north lot in Johnson City (NY 17 Exit 70N) at 7:45 am. Contact leaders for alternate meeting locations.
Contact