Wally Wood Spring Hike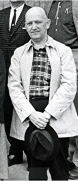 Wally Wood 1967
Wally Wood was the founding president of the Finger Lakes Trail Conference. He was a long distance hiker living in Rochester when he organized existing hiking clubs in 1962 at Keuka College forming the Finger Lakes Trail organization.  The Annual Wally Wood Hike honors his memory. His monument pictured to the left is located on M7 South of Portageville. It was installed by landowner Hessie and the GVHC June 4, 2005.
The 2012 Wally Wood Hike will be on SATURDAY, April 14, 2012.
The hike will be on the International Loop, Dryden/Cortland area, FLT Map M19.
Hike
The International Loop combines the Swedish Loop Trail (SwL), the Spanish Loop Trail (SpL), and portions of the "American" Finger Lakes Trail. The hike will start at the northern FLT trailhead on Daisy Hollow Road (see FLT Map M19).
After about a mile on the FLT, which traverses a spectacular hemlock forest with plenty of stream views, hikers will take the SwL, which continues in the hemlock forest but with a greater sense of remoteness. After the SwLsection ends at the FLT, hikers will begin the gradual climb of mighty Owego Hill using several long, gentle switchbacks.
Along the way, hikers will pass the International Mine, which is quite safe to explore and is marked by a red dot on one of the white blazes and a small cairn. A few steps uphill from the trail gets you to the very old mine opening.
Soon hikers will arrive at the SpL, which passes through a wonderful variety of terrain—including a Norway spruce forest, some lovely mossy springs, and an evergreen tree farm that is now going back to nature—before reconnecting with the FLT, which will lead hikers back to the loop's original starting point. The entire hike is approx 7 to 8 miles long.
Meet
10:00 am at the FLT's "northern" trailhead on Daisy Hollow Road
Directions to Meeting Location
From either Ithaca or the Binghamton area take NY Route 38 to Daisy Hollow Rd, this intersection is approximately 5 miles south of Dryden, and just north of Harford. Turn onto Daisy Hollow Rd (in a northerly direction) for approx 3.5 miles till you reach the second ("northern") FLT trailhead, it is near Carpenter Hill Rd. GPS coordinates are N42 28.235, W76 13.880.
Leader
Phil Dankert, [email protected]