2019 SPRING WALLY WOOD HIKE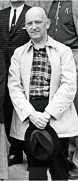 Wally Wood was the founding president of the Finger Lakes Trail Conference. He was a long distance hiker living in Rochester when he organized existing hiking clubs in 1962 at Keuka College forming the Finger Lakes Trail organization.  The Annual Wally Wood Hike honors his memory. His monument pictured to the right is located on map M7 South of Portageville. It was installed by landowner Hessie and the GVHC June 4, 2005.
SATURDAY, APRIL 27TH, 9:00 AM
Where Trails Meet – Finger Lakes Main Trail and the Conservation Trail, FLT Map M4
Hike Leaders:
Donna and Marty Ruszaj, [email protected] (716-250-8340)
in conjunction with the Foothills Trail Club
Hike Description:
The 2019 Wally Wood hike will be held on Map 4 in the Town of Ashford – Cattaraugus County. The hike celebrates the efforts of Wally Wood to join the Conservation branch trail with the Finger Lakes main trail. Wally along with Foothills Trail Club founding member Mable James had the foresight to join the east – west FLT with the North – South Conservation Trial. The result of this effort allows hikers to travel from Slide Mountain in the Catskills to Niagara Falls. The connectivity continues after crossing the Rainbow Bridge into Ontario to meetup with the eastern terminus of the famed Bruce Trail and onward to Tobermory where the Peninsula bisects the Georgian Bay and Lake Huron.
On Saturday April 27th two hiking options will be available to commemorate the work of Wally and Mabel. The full hike will start at M4-A1 (Fancy Tract Road intersection of NYS Rt. 240). Early in this 10-mile trek we will meet with the southern terminus of the Conservation Trail and then follow on exploring the FLT donated land (John Cobb) and the Blue Loop trail. After crossing over the Devereaux Creek, a short road walk will take us into Boyce Hill State Forest. A vertical challenge will greet us as we make our way through the pine forest, past the 2012 constructed lean-to and on to the highest point where we are greeted with a beautiful pond. As we end the hike near Cash Park, take a moment to reflect on the efforts of all that made this journey possible as we take a well-deserved lunch in the picnic area constructed by Finger Lake's member, Tony Orisini
(see: https://fingerlakestrail.org/wp-content/uploads/FLTC_Files/FLTNews/FLTNews2017-3-R.pdf).
Weather permitting, members of the Foothills Trail Club will be cooking and serving hot dogs as we rest our tired feet.
The second hike will start at M4-A2 and will cover 3.8 miles through Boyce Hill State Forest.
Meeting Time:
Hike #1 (10 miles): 9 AM – Spot cars on Fancy Tract Rd.
Hike #2 (3.8 miles): 11 AM – Spot cars on Phillips Rd.
Location:
Meet-up and Parking will be at Cash Park, Franklinville, NY on Bakerstand Rd. near intersection with Rogers Rd. (42.341689, -78.500347)