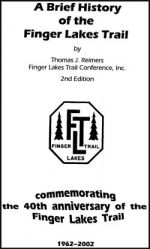 "Certificate of Incorporation of FINGER LAKES TRAIL CONFERENCE, INC." was approved on September 20, 1963.
"A Brief History of the Finger Lakes Trail" was written by Tom Reimers in 1992 to commemorate the 30th anniversary of the Finger Lakes Trail System. It was updated in 2002 for the 40th anniversary.
"The Finger Lakes Trail – A series on the early years" was written by FLTC Founder Wally Wood in 1974. Reprinted from FLTC archives.
50th Anniversary
The fiftieth anniversary of the Finger Lakes trail was celebrated at the Spring Weekend at Keuka College on June 15-17, 2012 and by the Amazing One Day End-to-End Hike of the FLT main trail.
People of the FLTC
Here are some of the FLTC leaders who have made the Finger Lakes Trail what it is today.