FLT Passport Hikes
Are you new to hiking and the Finger Lakes Trail?   The FLT Passport Hike system is a series of fun, easy hikes to introduce you to the the Finger Lakes Trail. In addition to fun and healthy activity, you can earn awards by taking these hikes yourself. At the trail register somewhere on each hike, you can do a rubbing of the hike number into your Passport booklet.
IMPORTANT NOTICE
Hike #10 Upper Robert Treman State Park June 27, 2015
Due to severe thunderstorms, trails are closed (impassable) and Passport station is destroyed.
Hike #2 Letchworth Falls – May 8. 2015
Letchworth State Park has closed off the south end of our trail within park property because preparations for the upcoming new railroad bridge have destabilized the hill above the trail.  So the rubbing post for hike 2 in Letchworth State Park in the Central booklet is beyond the closure point.  We can still walk to the viewpoint opposite the Middle Falls, but that's all, so only half of that hike can be done for the next couple of years.
How to get a Passport Booklet:
You can get your own copy of the Passport Booklet at many of the locations of the sponsoring organizations. You can also download a PDF file of the booklet for viewing or printing. Click on the links below for the desired download options.
| | | | |
| --- | --- | --- | --- |
| Use these links for viewing the booklet on your computer, phone, or tablet. | West | Central | East |
Patches for Passport Hikes
Here are the patches you can earn for completing at least four of the hikes in each of the FLT Passport Hike series. Each patch measures 3" x 4.5".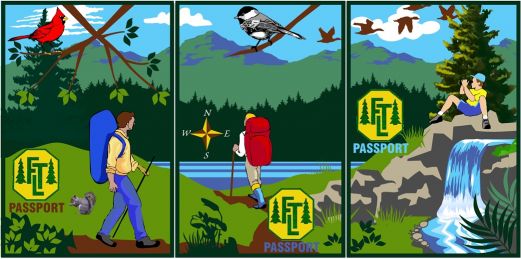 West Central East