Finger Lakes Trail Passport Hikes Program
Are you new to hiking and the Finger Lakes Trail (FLT)? The FLT Passport Hike program is a series of fun, easy hikes to introduce you to the the Finger Lakes Trail.
In addition to fun and healthy activity, you can earn awards by taking these hikes yourself. At the trail register somewhere on each hike, you can do a rubbing of the hike number into your Passport Booklet. See below for sample of Passport Program sign-in post.
There are three Finger Lakes Trail Passport booklets to choose from. These are the Western, Central and Eastern guidebooks each featuring 12 hikes ranging in length from 1 to 5 miles.
Select one of the Passport Booklets below to get your copy today.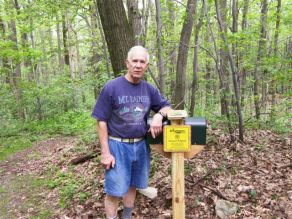 Example of a Passport trail register many of which feature a mailbox that often contain a sign-in logbook along with pencils. Passport trail registers are clearly marked with a Finger Lakes Trail Passport program sign.
The image to the left shows Peter Bushnell standing next to a Passport trail register. This particular register is on hike #5 in the Central Passport Booklet.