FLT Passport Hikes
Are you new to hiking and the Finger Lakes Trail?   The FLT Passport Hike system is a series of fun, easy hikes to introduce you to the the Finger Lakes Trail. In addition to fun and healthy activity, you can earn awards by taking these hikes yourself. At the trail register somewhere on each hike, you can do a rubbing of the hike number into your Passport booklet.
How to get a Passport Booklet:
You can get your own copy of the Passport Booklet at many of the locations of the sponsoring organizations. You can also download a PDF file of the booklet for viewing or printing. Click on the links below for the desired download options.
| | | | |
| --- | --- | --- | --- |
| Use these links for viewing the booklet on your computer, phone, or tablet. | West | Central | East |
Patches for Passport Hikes
Here are the patches you can earn for completing at least four of the hikes in each of the FLT Passport Hike series. Each patch measures 3" x 4.5".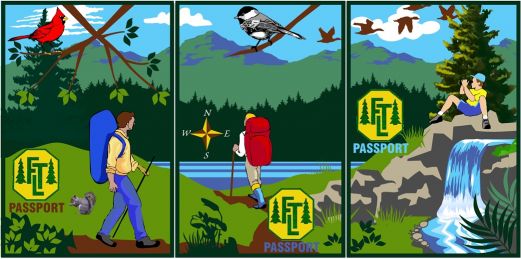 West Central East