2021 County Hike Series – Cortland County
Due to health and safety concerns amid the world-wide COVID-19 pandemic, the Finger Lakes Trail Conference's 2020 County Hike Series in Cortland County was postposed to 2021. Registration information for the 2021 Series will be available as early in the New Year as possible. Registrants for the 2020 Series will have the option of deferring their registration for either of the next two years: 2021 in Cortland County and 2022 in Tompkins County. Thank you for your understanding!
2021 County Hike Series – Cortland County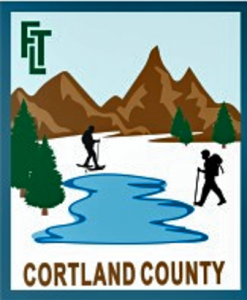 What better way to see the trail than with a group of like-minded individuals all hiking together and not having to worry about transportation or knowing the trail in advance. The FLT Cross County Hike Series does the work for you. All you need to do is register in advance, and show up for the hikes.
2020's Series in Cortland County has been postponed to 2021. The hikes will take place over six Saturdays beginning in April 2021.
The County Hike Series is for everyone. Young and old, fast hikers, slow hikers and even what are called "half-hikers" who complete each scheduled hike over two days. Some hikers use the series as a way to complete their end-to-end hike. Others just want to get out and enjoy the beauty and fun of hiking. Everyone is invited to come join the fun.
Hikers are split into groups based on how fast or slow they hike. Each group is led by an experienced hike leader. Buses are provided to pick up the hikers at the end point of the hike and drive them to the start of the hike. Near the middle of the hike, a SAG (Supply and Gear) wagon is set up so hikers can refresh themselves with drinks and snacks. Hikers may choose to stop for the day at the SAG Wagon, completing the "half hike," and making arrangements with other half-hikers to complete the other half.
The longest hike in the series is approximately 11.7 miles and the shortest approximately 9.3 miles. The 2021 hike dates will be announced in early 2021.
For any questions contact the FLT office at 585-658-9320.
Peg Fuller
FLT Program Chairperson