Each year, the FLTC cooperates with affiliate organizations to sponsor a Cross-County Hike Series. The series includes several organized hikes, about one per month, that are intended to promote hiking on the Finger Lakes Trail. Many members use these hikes in their quest for End-to-End awards. When you register for a series and participate in all of the hikes, you will have crossed a major section of the Finger Lakes Trail. There is a modest registration fee that covers the cost of transportation between the ends of each hike.
2018 County Hike Series – Delaware County
Registration and information will be available soon.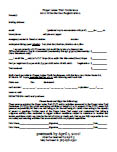 Click for
Registration Form