Meet the FLTC Board of Managers
The Finger Lakes Trail Conference is governed by a 15-member volunteer Board of Managers with seven Officers (President, Executive Vice President, VP of Finance, VP of Membership & Marketing, VP of Trail Preservation, VP of Trail Maintenance, and Secretary), and three volunteer Directors (Director of Mapping, Director of Crews & Construction, and Treasurer).
Since the organization was founded in 1962, the work of the Finger Lakes Trail Conference has been carried out by the volunteer Board of Managers. All of the growth in the last 60 years was driven by this highly competent and dedicated group of people. Here, we will share a little bit more about current members of the Board of Managers, adding at least one story each month.
We hope you enjoy getting to know these individuals, and become inspired to get more involved yourself!
Peg Fuller has been on the FLTC Board since 2019. She retired as a Police Captain after 25 years of service in New Jersey. While she was still working she started volunteering for a Border Collie rescue located in Central New York, spending weeks at a time camping at the rescue and walking the dogs. When it came time to retire, Peg wanted to be close to the rescue (which has since moved to Virginia) so she could continue her volunteer efforts. This brought she and her husband to South Otselic, which is still home.
Peg learned about the Finger Lakes Trail almost immediately as it crossed a neighbor's property. She got involved with the local Bullthistles Hiking Club, starting as Treasurer and eventually becoming President, a role she continues to hold today. Bullthistles have always maintained active involvement with the FLTC as a member club, so when previous president Donna Coon needed to step down from the FLTC Board of Managers it made sense for Peg to step up.
"I didn't really know what I was getting into, but everyone was so helpful and supportive, so that made it really easy to dive right in," Peg says.
The FLTC's Board of Managers is very active, and its members do much more than show up at quarterly meetings. Peg immediately raised her hand to serve as Program Chair, overseeing the organization's many annual events like Spring Weekend, Fall Weekend Festival, and the then-new Trails Day event. Soon after, however, COVID struck and flipped all her plans on their head.
"I helped plan the Fall Weekend Event in Norwich in 2019, and then that was it. By the time the County Hike Series and Spring Weekend rolled around in 2020 we had to cancel everything."
Peg worked closely with County Hike Coordinator Sigi Schwinge to manage the 2021 County Hike Series in Cortland County, which had a delayed started and shorter schedule due to the pandemic, but was disappointed that Fall Weekend had to be cancelled yet again in 2021. In 2022 she is looking at her first full year of scheduled events with optimism.
Working with Tompkins County Hike Coordinator (and Interim Executive Director) Deb Nero, Peg is enjoying near record enrollment in the Series, and is working with the organization's Events Committee to plan a stellar Fall Weekend Festival in Ithaca.
"What I really like is to watch people get involved. All our events rely on volunteers, and it's really fantastic to see people jump in and help. I've met people from across the state that I never would have met if it weren't for working at these events. It's definitely my favorite part of being on the Board of the FLTC."
When Peg isn't fulfilling her duties at President of Bullthistles or as Program Chair for the FLTC Board, she is either hiking with her dogs or volunteering as a Caretaker at the Wolf Mountain Nature Center, where she is Head Arctic Fox Caretaker. The FLTC is grateful to Peg for all she does and is looking forward to events in the years to come!
To learn how you could get involved as a volunteer or with the Board, email [email protected].
There are many pathways to becoming involved with the FLTC's Board of Managers. Some people are roped in by a friend (like Dave Newman), while others just raise their hand at an FLTC event (like Lisa Barrett – see below for Dave and Lisa's stories). For Tim Holahan, who joined the Board in 2021, the path involved a lifetime of outdoor activities and a couple of trail races on the FLT.
Tim had the distinct honor of finishing last at the Many on the Genny 40-mile trail race on the FLT's Letchworth Branch in 20XX, crossing the line just after his wife Annette. He has participated in a number of trail races on the FLT's Letchworth and Bristol Hills Branches over the years, and in addition to being an Adirondack 46r, Tim has led dozens of individuals safely to the summit of their first Adirondack High Peak. Other trail experience includes Scouting and volunteering with the Massassaugua Search and Rescue Team.
Tim is easing toward retirement after a career focused on analytics for strategy, marketing and finance and is looking forward to more time on the trails in the coming years. He has passed his love of trails and the outdoors to his children, who are now grown. Son Nathan completed an Appalachian Trail through-hike in 2021; daughter Alyson is an architect in Seattle, WA and has spent summers trekking in Eurpoe; and so-called "little boys" Reese and Drew are college students, Eagle Scouts, and have a plan to complete their Adirondack 46r summits in the summer of 2022.
Tim jumped right in when he joined the FLTC Board in September 2021, agreeing to pen a column on Trail Safety for FLT News, and heading up a working committee to evaluate historic and projected expenses against the organization's Financial Sustainability Plan. We are grateful for his eager service and look forward to all he will bring to the Board and the organization in the coming years!
Lisa Barrett is the FLTC's Vice President for Finance, an Officer position she has held since 2019. Officers are appointed by the Board of Managers and have responsibility for specific aspects of guiding and governing the organization. As VP of Finance, Lisa oversees the Finance and Investment Committees, and provides oversight to all aspects of financial management for the FLTC, including ongoing reviews and updates of an extensive set of Finance Policies that ensure proper management of the FLTC's financial portfolio. Lisa also conducts regular reviews of the organization's financials, and works with the Executive Director, Director of Marketing and Communications, and Director of Trail Development to create and manage the FLTC's annual budgets. It's a big job, but if you asked Lisa about her involvement with the Finger Lakes Trail she would probably talk more about the time she has spent on the trail, the people, she has met, and what it has all meant to her.
Lisa is a 4th generation Vermonter and is clearly proud of having grown up in the "great Northeast kingdom of Vermont." She got started hiking early in life when a second cousin included her in his training efforts to hike Mt. Washington. She started hiking the Whites every weekend and got hooked.
Fast forward to 2017. Though they spent their entire life in Vermont, Lisa and her husband had profoundly meaningful experiences volunteering with a Border Collie rescue located in New York and spent significant time over the years on "volunteer vacations" with the organization. When Lisa's husband passed away, she decided to move to New York to continue that work.
Through volunteering with the Border Collie rescue, Lisa met Peg Fuller, an FLTC Board Member and President of the Bullthistle Hiking Club, who introduced Lisa to the Finger Lakes Trail. She started hiking with Peg and others, and in 2019 found herself at the FLTC's annual Fall Weekend event in Chenango County. During his remarks, FLTC Board President Pat Monahan commented on the need for volunteers, and specifically the need for someone to serve as VP of Finance. Lisa, a CPA, raised her hand. By that November, Lisa was attending the Board's annual Weekend Retreat in Letchworth State Park, sleeping on the floor of a room in the conference center in a room with six other female members of the Board of Managers. She was in.
Lisa has already made significant contributions to the FLTC and the organization's financial well-being and sustainability. The FLTC has experienced significant growth in the last few years, and some turnover of key staff. Through this, Lisa ensured that the annual budget process was smooth and timely, and that attention has been paid to regular and careful review of financials and financial policies.
While Lisa loves this work, her love of the FLTC comes from the trail itself. Lisa spends a good amount of time on the FLT with her dog Annie, working toward her personal FLT50/60 Challenges, and now on her End-to-End. She met some great hiking partners over the years, including Bill and Terri Demski, with whom she spends a lot of trail time. More recently, Lisa bought a little camper so she could travel further in her adventures, which is something she never imagined doing. Lisa says she is often astounded when she thinks about all that the trail has brought to her, and what it brings to so many.
The Finger Lakes Trail Conference is so fortunate to have Lisa as a volunteer, and we are so grateful for all that she does to support and promote the Finger Lakes Trail.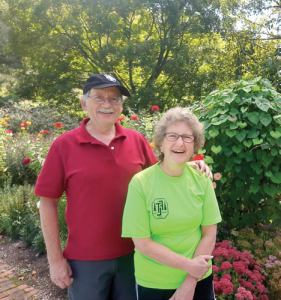 Dave Newman (pictured here with his wife Laurel) is the FLTC's Vice President for Trail Preservation, a Board position he has held since 2014. He assumed the role of VP for Trail Preservation from his good friend Ron Navik, who was relocating to North Carolina. Dave had been involved with the FLTC as a member and donor, and as a participant in the County Hike Series. He'd long been a part of the outdoor community through the Genesee Valley Hiking Club, ADK Genesee Valley Chapter, and as a Cub Scout and Boy Scout Leader when his son was growing up. The opportunity to join the FLTC Board and take on this important position came at just the right time as Dave was entering his second retirement.
Dave spent his career with Kodak, retiring after 35 years from a management position. He spent three years after that running a start-up tech company near Rochester before retiring for good in 2014.
In his time with the FLTC, Dave has grown the organization's trail preservation efforts, embracing Ron's focus on securing easements and then leading the Board in a project to identify "Key Parcels" along the FLT. Key Parcels are pieces of land on or near the trail that are of significant consequence. Having them could considerably improve the trail, and not having them could be highly detrimental to the trail. Knowing and being able to act when Key Parcels become available has become more and more important as the FLTC's Sidote Stewardship Fund has grown.
The Sidote Stewardship Fund was started on the occasion of Ed Sidote's 90th birthday in 2007. He made a gift of $1,250 and challenged other leaders and members of the FLTC to match his gift to create a Fund that would be entirely focused on preserving and protecting the trail. A group of 32 Charter Members accepted his challenge, forming the FLTC's Forever Society and establishing the Sidote Stewardship Fund. Dave had long been a donor to the Sidote Fund, and became a member of the Forever Society in 2015. Since that time, the Fund has grown from about $100,000 to just over $1 million.
These funds are critical and are carefully managed. "We don't want to go out and buy the whole trail," Dave says. "But we want to be able to take action when land that is of consequence to the trail becomes becomes available – and we need to be able to act fast. It has been the case for a number of these projects that the property will eventually be sold to another entity, and the money will cycle right back into the Sidote Fund. It's really an incredible financial position for the FLTC to be in."
Land acquisition and trail preservation projects take a lot of work, and Dave has managed a lot of them.  As a volunteer driven organization, having people like Dave is literally what keeps the organization growing and moving forward. "I like working with trail preservation and land acquisition projects. They are a lot of work, but it's permanent. I like knowing that what I'm doing is having a lasting impact."
Dave and his wife Laurel also maintain a section of trail in Bully Hill State Forest on Map M9, and he has worked on numerous Alley Cat projects. For the last two years, Dave has also spent a considerable amount of time helping the FLTC with the development of a custom-designed database to manage all data and information related to landowners and volunteer trail maintainers. Dave and Laurel completed their End-to-End of the FLT in 2021. Their story is featured in the Winter 2021 issue of FLT News, and it's worth noting that they completed it by hiking the County Hike Series each year, which they started 17 years ago in Tompkins County.
Dave received the FLTC's Wally Wood Award for Distinguished Service in 2018, which was then and is now so very well deserved. The FLTC is enormously grateful for Dave and others who give so much of their time and energy in support of the Finger Lakes Trail.