The Huckleberry Bog Nature Trail is on the Bristol Hills Branch Trail of the FLT and may be found on map B3. Refer to Map B3 for trail condition notices.  Not only is this a special place, but Irene Szabo has written a special Nature Trail Guide book including a field guide to plants and trees. You can download a copy and take it along on your hike. This is a terrific family hike.
Trail map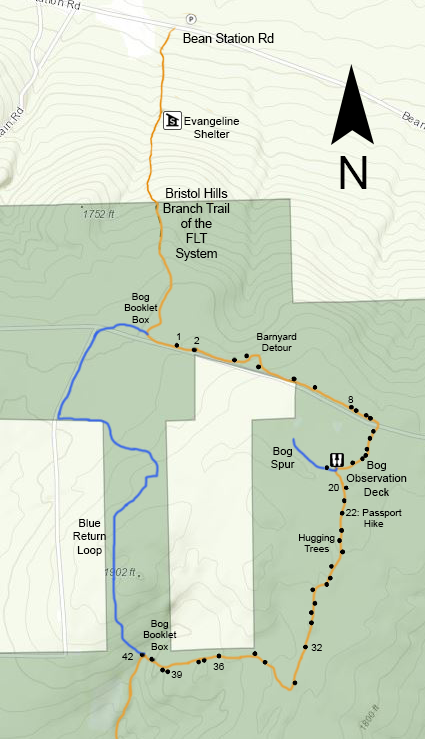 Download your copy of the Nature Trail Guidebook. If you prefer, you can borrow a copy from the kiosk at one end of the trail and leave it at the other end so others can use it. Please don't take a borrowed copy with you when you leave.
The fairly level trail (1770-1870' elevation), entirely within Urbana State Forest, begins its north end in a patch of young maples that was open field when this trail was laid out by a Girl Scout troop in the 1960s, then turns left just beyond the junction with the blue return loop onto an old road that had four or five farms and homes along it during the 1800's. Notice that the roadside trees are larger, showing that they lined the lane when fields behind the road were open. Rocks cleaned out of fields line the road edge, and apple trees are also frequent.
Local citizen Romayne Barrett says that people would still drive cars up this road into the 1950's when they came to the bog to pick "huckleberries," as they were called, yet "Bog Road" had ceased to exist on property maps as long ago as the 1930s.
The old road we walk next to is unfortunately not part of the State Forest, so people on ATVs can use it legally, as can horseback riders. Endure. They may NOT, however, leave that road to use our footpath in either direction!