Ways to Give
We are deeply grateful to the many individuals, families, businesses, clubs, and foundations who support the Finger Lakes Trail Conference through Donations and Membership Dues. Your contributions provide critical funding for trail work and construction projects, for our trail maps and member communications, group hikes, programs and special events, and for the small staff who work to promote and enhance the FLTC through these efforts. Your gifts help to strengthen our growing trail community, and to strengthen the trail itself.
Gifts to the Finger Lakes Trail Conference are recognized at the following levels in our Annual Report of Donors, which is published in the Spring issue of FLT News each year.
Trail Patron     $1,000+
Trail Guide      $500-$999
Trail Builder    $250-$499
Trail Blazer      $100-$249
Pathfinder       Gifts up to $100
Annual Fund
Unrestricted gifts to the Annual Fund provide necessary flexible funding for the organization. Gifts to the Annual Fund support all aspects of the FLTC's operations—trail work, group hikes, training for volunteers, special programs and communications. When you make a gift to the Annual Fund, you are supporting the work we are doing right now to fulfill our mission to build, protect, enhance and promote the Finger Lakes Trail.
Gifts to Restricted Funds
The Finger Lakes Trail Conference has several restricted funds that support specific needs within the organization. The Sidote Stewardship Fund is restricted for the use of trail protection and preservation projects; the Endowment Fund ensures the long-term viability of the organization, with earnings used for general operating costs; the Lean-to Fund helps us meet our goal of having a lean-to every 10-15 miles along the trail; and the Capital Equipment Fund is used for large equipment purchases.
FLT Forever Society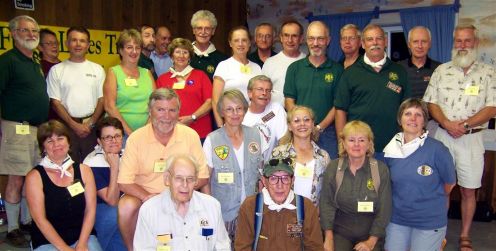 *Charter Members of the FLT Forever Society are shown above at Ed and Harmon Strong's 90th Birthday Party Bash in Bath in October, 2007.
The FLT's Forever Society was founded with a gift of $1,250 from Ed Sidote on the occasion of his 90th Birthday. Ed challenged other leaders and members of the FLTC to match his contribution as a birthday gift to him, thus establishing the Sidote Stewardship Fund and the Forever Society. A group of 32 founding members accepted his challenge, and since then more than 50 individuals and organizations have joined their ranks. To date, the Sidote Stewardship Fund is valued over $1 million, which is designated for trail preservation and protection.
Membership in the Forever Society and contributions to the Sidote Stewardship Fund represent the strongest possible support of our mission to "build, protect, enhance, and promote a continuous footpath across New York State for the enjoyment and health of residents and visitors. Forever!" The Forever Society includes some of our most devoted supporters, and the Sidote Fund ensures that the trail will be preserved and protected in perpetuity.
Membership in the Forever Society is open to anyone who pledges $1,250 or more and agrees to pay that pledge within a five-year period. All funds are deposited into the Sidote Stewardship Fund. Members of the Forever Society are recognized at our annual Fall Weekend event and in FLT News.
To become a member, contact Christy Post. You can make a gift of any size at any to the Sidote Stewardship Fund here.
Gifts of Stock and Planned Gifts
For information about making a gift of stock or including the Finger Lakes Trail Conference in your estate planning, please contact Christy Post.
Gifts in Honor and Memory
Thank you to the many donors who chose to make gifts to the Finger Lakes Trail Conference in honor or in memory of a loved one. Gifts over $50 made to the Lean-to Fund in honor or memory of a loved one will be recognized with a plaque in a lean-to. Donors will be notified of its location once it is installed.

photo by Jet Thomas
Memberships & Lifetime Memberships
Your membership with the Finger Lakes Trail Conference is powerful way to support the organization. Membership demonstrates your commitment to protecting and enhancing the trail, helping to ensure it remains accessible and available for future generations. We offer Membership at many levels, including Individual and Family ($40/$60), and Sustaining Memberships: Trail Blazer ($100), Trail Builder ($250), Trail Guide ($500) and Trail Patron ($1,000). You can join or renew your membership online anytime, or make a one-time gift of $600 for an Individual or $900 for a Family Lifetime Membership.