Make a donation
The Finger Lakes Trail Conference depends upon donations. We have four major funds: the Unrestricted Fund, the Sidote Stewardship Fund, the Endowment Fund and our newest fund, the "Buy a Log" Fund to help cover the costs of construction and replacement of Lean-to's on the Finger Lakes Trail.  Questions may be directed to the FLT Service Center.
FLT Forever Society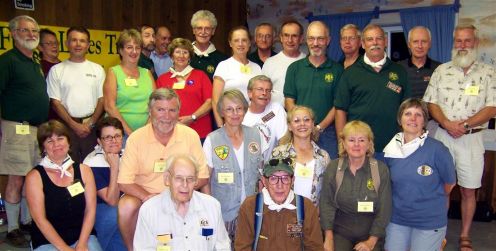 Charter Members of the FLT Forever Society are shown above at Ed and Harmon Strong's 90th Birthday Party Bash in Bath in October, 2007. There were 32 Charter Members. Starting with Ed Sidote's $1,250 donation, this program has now raised $81,600 and has 67 members.  We encourage others to consider joining.  Forever Society Membership is open to anyone who pledges $1,250 or more and who agrees to pay that pledge within a 5 year period.  All funds are deposited into the Sidote Stewardship Fund which is designated for trail protection. Forever Society Members are listed on a plaque displayed at our spring and fall weekend events.  For more information or to join the Forever Society, please contact the FLT Service Center or the Executive Director.
Planned giving
During your estate planning, please consider the Finger Lakes Trail Conference.  For more information, please contact the FLT Service Center or the Executive Director.
Memorials
Please consider a donation to the FLTC in memory of friends and family who enjoyed hiking.
Buy a Lean-to Log fund!
The Finger Lakes Trail Conference has created a new opportunity for you to help us make a difference. As you probably know, we have over 30 lean-to's along our trail to provide shelter for hikers. Ideally, we should have a lean-to every 10 to 15 miles. In order to accomplish that goal, we will need to build about 20 more. In the past, we have frequently been able to fund some of these projects (those along the North Country Trail portion of the FLT) with National Park Service Challenge Cost Share support. On other trail sections, we've been fortunate enough to get grants from private foundations or individuals. Grant monies for such projects are becoming more difficult to obtain, so we will need some member help.
The FLT Board of Managers has created a new fund where monies from this campaign will be set aside and reserved for new lean-to or lean-to replacement construction. It costs about $3,500 for materials to build a lean-to. The labor is donated by our members and friends. To become a lean-to donor, you may buy a log (figuratively, not literally) for $100. Of course you are welcome to buy as many logs as you like, and we'll even offer "half-logs" for $50. When a lean-to is built using these funds, donors will be recognized on a small plaque mounted inside the lean-to. When the annual renewal notices are sent out, "Lean-to Fund" will be listed along with "Unrestricted," "Sidote Stewardship Fund," and "Endowment Fund" as an optional contribution to our mission. The Finger Lakes Trail Conference thanks you for considering this fund, and thanks you for your support of the Finger Lakes Trail.

photo by Jet Thomas