The FLTC offers downloadable files containing complete track and complete waypoint GPS data detailing all of the approximately 1,000 miles of the FLT, including main, loop, branch, and spur trails. In addition to GPS data, the downloadable files contain PDF images of the paper maps. GPS data is in the form of GPX files that can be loaded onto smart phones supporting GPX apps.
GPX Viewer and GPX Viewer Pro for Android devices
The free GPX Viewer from Vectura will enable you to view our maps on your Android phone. Tracks and waypoints are displayed on a variety of on-line map backgrounds along with your present location.
GPX Viewer Pro (license fee) has all of the features of GPX Viewer plus you can record the track of your hike. You can also download background maps to your device that can be viewed during your hike even if you have no cell phone coverage.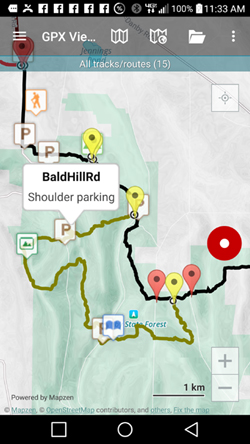 If you have experience using other smart phone apps, please let us know at [email protected].