Erv Markert was chairman of the Trails Committee for almost twenty years. He served on numerous state and national organizations developing useful working relationships with public employees promoting hiking and trails.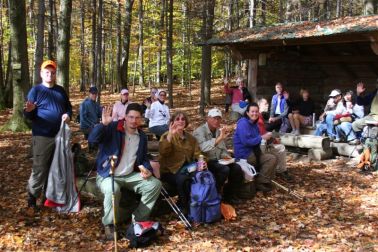 Photo by John AX Morris 10-14-08 Erv Markert Hike FoxFire Shelter
Hike: FLT Maps M13 Access 4 and CH1 (Crystal Hills Trail, the FLT's newest branch trail)
Meet: 9:00 AM at Map CH1 Dry Run Road to plan the car shuttle.
Directions to meeting place: Take I-86 Exit 42 Coopers Plains (this is just west of Corning, NY) and turn north onto Meads Creek Rd (Co Rd 26).  Follow the signs for BOCES or Watson Homestead and drive approximately 2 and 3/4 miles to the corner of Meads Creek Rd and Dry Run Rd. (Click for map)
Description: Enjoy this relatively new 7.7 mile section of the Crystal Hills Trail (a.k.a. Great Eastern Trail) as we honor the memory of Erv Markert.
Leader's contact information: Paul Hoffman, [email protected]