Wally Wood Spring Hike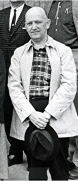 Wally Wood 1967
Wally Wood was the founding president of the Finger Lakes Trail Conference. He was a long distance hiker living in Rochester when he organized existing hiking clubs in 1962 at Keuka College forming the Finger Lakes Trail organization.  The Annual Wally Wood Hike honors his memory. His monument pictured to the left is located on M7 South of Portageville. It was installed by landowner Hessie and the GVHC June 4, 2005.
2015 Wally Wood Hike
Saturday, May 2, 2015
Rock Rift Fire Tower, Cannonsville Reservoir
FLT Map M28 rev 10/14
Leaders
Debra Nero, [email protected], (607)227-7957
Laurie Ondrejka, [email protected]
Hike Description
Join us and discover the delights of one of the newest stretches of the FLT, a brand new loop with a fire tower! This hike will be 7.1 miles with a strenuous climb of 1,000 feet and an equally strenuous descent.
The hike will begin (and end) at the parking area at the intersection of NY Route 10 and NY Route 268 on FLT map M28 at the north end of the NY Route 268 bridge over the reservoir. From the parking area we will hike west on the blue-blazed FLT for 2.1 miles alongside the Cannonsville Reservoir, at which point we will meet up with the new stretch of the FLT. The trail turns east and climbs up to the Rock Rift Fire Tower before dropping back down to parallel NY Route 10 and return to the parking area.
Meeting Location and Time
Interested hikers will meet at 9:15 am at the parking area at the intersection of NY Route 10 and NY Route 268. We will begin the hike at 9:30 am.
Directions to the meeting location
From Binghamton: Take I-86 east (NY Route 17) to Deposit, NY, exit # 84 / NY Route 10. Follow NY Route 10 east (toward Walton, NY) for about 15 miles until you come to the intersection with NY Route 268. Park at the intersection, on NY Route 10.
From: Syracuse/Whitney Point: Take I-81 south to Whitney Point, NY, exit #8. Turn left on to US Route 11 and drive thru Whitney Point, then turn left on NY Route 206 to Walton. In Walton, turn right on NY Route 10 and go about 10 miles to the intersection with NY Route 268.