Spring Weekend is a time when we bring members and guests from across the state together for a 3-day weekend of hikes and programs. It is also the time of the Annual Meeting of the FLTC Membership and Annual Awards Presentation.
The 2017 meeting will be hosted by ADK‐Onondaga. See below for information and registration.
---
Annual Meeting of the FLTC Membership
Spring weekend is when we hold the annual meeting of the FLTC Membership to elect new Board of Managers members and report on activities and plans. All are invited to participate. Meeting Agenda and Board of Managers nominations are available here.
Annual Awards Meeting
We also gather to convey awards to persons and organizations who have made outstanding contributions to the organization and the trail.
---
FLTC 2017 Spring Weekend
June 9 – June 11, 2017
Tompkins-Cortland Community College, Dryden, NY

Registration Deadline May 20, 2017

Host: Adirondack Mountain Club, Onondaga Chapter
You might have skipped the spring weekend in years past. Don't make that mistake this year!
The dates are June 9 through the 11th and the location is Tompkins-Cortland Community College, Dryden, NY. If you're a veteran of past weekends, you already know that the reconnection with hiking friends, and the camaraderie that comes from shared time on the trail, is the main attraction for this affair.
Registration Information
Click here for full information and schedule.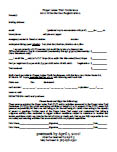 Click for Paper Registration Form
Register On-Line anytime and pay securely via PayPal using a PayPal account or a credit card. You do not need a PayPal account to use a credit card at PayPal.Or, register by US mail and pay with a check using the paper Registration Form. 
If you have any questions, please contact Jon Bowen, [email protected],
(315) 638-8749
See you on the trail!