Wally Wood Spring Hike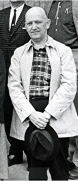 Wally Wood was the founding president of the Finger Lakes Trail Conference. He was a long distance hiker living in Rochester when he organized existing hiking clubs in 1962 at Keuka College forming the Finger Lakes Trail organization.  The Annual Wally Wood Hike honors his memory. His monument pictured to the left is located on M7 South of Portageville. It was installed by landowner Hessie and the GVHC June 4, 2005.
2016 SPRING WALLY WOOD HIKE
Saturday, April 30, 2016
FLT / Interloken Branch Trail, FLT Map I1 rev 11/15
Hike Leaders: Debbie Nero, [email protected], 607 227 7957
Laurie Ondrejka, [email protected], 585-727-6495
We will hike the entire 11.2 mile long Interloken Trail from south to north. Complete one entire branch trail in one day and hike in the Finger Lakes National Forest, the only national forest in New York State! This trail is easy to moderate as it follows the high land between Cayuga and Seneca Lakes. There are distant views of Seneca Lake from a couple of places along the trail. Please be prepared for muddy, wet conditions! Because of the parking arrangements (see below) it will also be possible to do a self-led shorter hike of 7.3 miles.
Meet at the Blueberry Patch Campground on Picnic Area Rd (Schuyler County Rte 2) in the town of Burdett.
The Campgound is in the Finger Lakes National Forest. The parking at the beginning and ending of the hike is very limited, so we will leave the majority of the cars parked at the Campground and on the shoulders of Picnic Area Rd.
Meet at 9am. Car shuttles will leave for the both ends of the hike at 9:15am.
The Interloken Trail is between the south end of Cayuga and Seneca Lakes.
Directions to meeting point:
From Watkins Glen, take NY 414 east (and north) to NY 79 east. Once on NY 79, go 2.6 miles to Cty Rte 4 (Logan Rd). Turn left (North) on Logan Rd for 4.6 miles. Turn right (East) on Picnic Area Rd for 1.6 miles to the Blueberry Patch Campground
From Ithaca, take NY 79 west for about 20 miles to Cty Rte 4 (Logan Rd). Turn right (North) on Logan Rd for 4.6 miles. Turn right ​(East) ​on Picnic Area Rd for 1.6 miles to the Blueberry Patch Campground