Wally Wood Spring Hike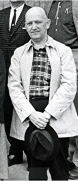 Wally Wood 1967
Wally Wood was the founding president of the Finger Lakes Trail Conference. He was a long distance hiker living in Rochester when he organized existing hiking clubs in 1962 at Keuka College forming the Finger Lakes Trail organization.  The Annual Wally Wood Hike honors his memory. His monument pictured to the left is located on M7 South of Portageville. It was installed by landowner Hessie and the GVHC June 4, 2005.
2014 Wally Wood Hike – Saturday, May 3
CRYSTAL HILLS TRAIL AND BEYOND!
Hike Leaders:
Debra Nero, [email protected], (607)227-7957
Laurie Ondrejka, [email protected], 585-727-6495
Hike Description:
Find out what's beyond the southern end of the Crystal Hills Trail (CHT).  There will be two versions of the hike – a longer 11.5 mile hike and a shorter 6.5 mile hike. Both hikes will end at the same point.
The longer hike (11.5 miles) begins at the parking area at mile 5.4 on FLT Map CH3, and will take in the southern-most 3 miles of the Crystal Hills Trail before continuing south on the Mid State Trail into Pennsylvania where we will hike around the man-made Cowanesque Lake and past the site of Nelson ghost town.
The shorter hike (6.5 miles) will be totally in Pennsylvania, going around Cowanesque Lake and past Nelson ghost town.
Trail maps, trail info and history of the area in Pennsylvania will be available at the beginning of  the hike.
Meeting Location:
Interested hikers will meet at 10am at the west end of the parking lot of the South Shore Recreation Area off Rt 49 in the town of Lawrence, PA.
From there, those interested in the short hike will carpool to the entrance of the Tompkins Recreation Area off Bliss Rd/SR 4022 on the north side of the Lake, while those who are doing the longer hike will carpool to the 5.4 milepost on FLT Map CH3.
Directions to Meeting Location:
Take US 15 south to the PA 49/Lawrenceville/Elkland exit and take PA 49 (Barney Hill Rd) west for about 3.5 miles. The Rec Area will be on your right between Croft Hill Rd and Bailey Hill Rd. Click here for map.