Wally Wood Spring Hike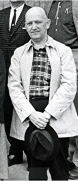 Wally Wood 1967
Wally Wood was the founding president of the Finger Lakes Trail Conference. He was a long distance hiker living in Rochester when he organized existing hiking clubs in 1962 at Keuka College forming the Finger Lakes Trail organization. The Annual Wally Wood Hike honors his memory. His monument pictured to the left is located on M7 South of Portageville. It was installed by landowner Hessie and the GVHC June 4, 2005.
Wally Wood Hike – May 25, 2013
Title of Hike
Rainbow Hike – FLT Map M19 – Cortland County
Hike Description
The Rainbow Hike (thus named because the route follows trails of five blaze colors, yellow, green, white, orange, and blue) is 9.4 miles. The hike will take in the following trails:  Lithuanian Loop, Irish Loop, FLT, Dabes Diversion, Kuzia Cutoff, and a portion of Cortright/O'Dell Road (scenic dirt road). No car shuttling will be necessary.  The hike will also honor Joe Dabes's contributions to the FLTC, since the first and last few miles of the hike will be on land that Joe owns, while the rest of the hike will be on trails that Joe maintains.  The hike will take us past Foxfire Lean-to twice, providing shelter (maybe for lunch) if the weather should turn out to be rainy.
This will be a dog-friendly hike (only for well-behaved LEASHED dogs), but hikers who may be nervous around dogs can join part of a separate group that will be hiking dogless and that will start either earlier or later than the main group.  Because this hike will involve a good many trail junctions, the leaders will be gathering up the hikers for a head count a little more often than is usual on FLTC hikes. We prefer to err on the side of caution.
Meet
Babcock Hollow Rd. parking area, which is also the trailhead for the Lithuanian Loop, Map M19, at 10:00 a.m. (Click for map.)
Directions to Meeting Point
From Dryden's four-corners:  Take NY Rte. 392 to Owego Hill Rd.  Turn right at this three-way.  Go to the end of the paved portion of this road at a four-way stop sign.  Turn left onto Babcock Hollow Rd. and continue until you start seeing a pair of long ponds on the right.  The large gravel parking area is on the right.
From I-81:  At the main Cortland exit for NY Rte. 13, turn right off the ramp and follow NY Rte. 13 through Cortland.  When Rte. 13 becomes Tompkins St., look for NY Rte. 215 (also called Owego Street) on the left.  Turn left at this three-way junction.  Follow Rte. 215 all the way to Virgil.  Proceed straight through at Virgil's four-corners and follow NY Rte. 392 for less than a mile until you see Owego Hill Rd. on your left.  Take it and follow it until its paved portion ends at a four-way junction.  Turn left and follow Babcock Hollow Rd. until you start seeing a pair of long ponds on the right.  The large gravel parking area is on the right.
Leaders
Alex and Michele Gonzalez. [email protected] (607) 844-8912
2013–05-25 FLT Map M19 (Firefox Lean-to area)