Finger Lakes Trail Days
July 26 – 27, 2019
Steuben County Fairgrounds, Bath, NY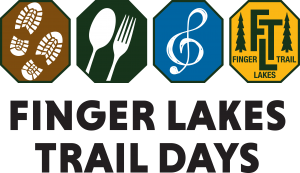 Steuben County Conference and Visitors Bureau is partnering with Finger Lakes Trail Conference and the Friends of the Chemung River in hosting the first annual Finger Lakes Trail Days on July 26 – 27, 2019. The event will take place at the Steuben County Fairgrounds in Bath, NY.
"Finger Lakes Trail Days is a celebration of all things outdoors," Kevin Costello, President of the Steuben County Conference and Visitors Bureau. "We want to draw more attention to the many ways locals and visitors can participate in outdoor recreation in the Southern Finger Lakes and felt tapping into our partnerships with the Finger Lakes Trail folks and the Friends of the Chemung was the best way to do that. We all got together and came up with the idea of hosting a weekend of great music, outdoor recreation activities and local food and drink with the goal of introducing attendees to the many opportunities there are in our region to get outside and get active."
Finger Lakes Trail Days begins on evening of Friday, July 26th with a concert featuring the Grammy Award winning bluegrass band, Steep Canyon Rangers. In 2013, the Steep Canyon Rangers' solo album Nobody Knows You won the Grammy Award for Best Bluegrass Album. The duet of Rob Ickes and Trey Hensley will show of their guitar and vocal prowess warming up for the Steep Canyon Rangers.
Gates open Friday night at 6:00 pm.
General Admission Prices: Adults: $20, Youth: $10
Tickets: https://fingerlakestraildays.ticketleap.com/finger-lakes-trail-days-2019/
Saturday is filled with outdoor recreation activities of all kinds along with local food, drinks, and an amazing musical line-up. "Attendees can experience a zip line, climb a rock wall, learn to kayak, participate in a group yoga session, go on a guided hike on the Finger Lakes Trail, learn to mountain bike, navigate a ropes course, listen and learn from experts about getting involved in nature, and so much more" said Costello. Saturday's music line-up features the 2015 winner of The Voice, Sawyer Fredericks, Cicada Rhythm, Joshua Davis, Aaron Lipp & the Slack Tones, and Joseph Alton Miller.
Gates open Saturday at 11:00 am.
Day Pass Prices: Adults: $10, Youth: $5
Tickets: https://fingerlakestraildays.ticketleap.com/finger-lakes-trail-days-2019/
Registration for guided hikes and tours is needed due to limited availability, but signup is FREE.  You may purchase tickets for all events (Friday and Saturday night and/or the Guided Hikes/Tours) at https://fingerlakestraildays.ticketleap.com/finger-lakes-trail-days-2019/
For more information on tickets, activities, on-site camping opportunities and the music schedule
visit www.fingerlakestraildays.com or contact [email protected]